Infrared Thermal Imaging
Thermal imaging, or thermography technology provides a non-invasive and efficient method for identifying issues and assessing the energy efficiency of your home. Our thermal imaging services provide reliable and professional assessment of your home's energy efficiency. Our technicians utilize cutting-edge Flir thermal imaging technology to identify potential issues such as energy loss, water damage, pests, and electrical faults.
We deliver detailed and comprehensive thermal imaging reports to help you enhance your home's energy efficiency and safeguard your investment.
How does thermal imaging work for inspectors?
Detecting differences in Thermal Density
Water Infiltration
Excessive moisture in materials
Stud / Joist / Beam / Rafter placement and structure
Difference in Temperature & Energy Audits
Thermal imaging can help identify the following issues:
Insulation and insufficiency/unevenness
'Hot' electrical panels, breakers, switches and wire connections
Insufficient Heating / Cooling duct placement/insulation
Pipe locations
Pest infestations
Drafty Doors, Storm Doors
Leaking Windows, Frames, Seals, Storm Windows, Caulking
Cold Crawlspace and Attic Space
Poor Duct Sealing
Poor Ductwork Insulation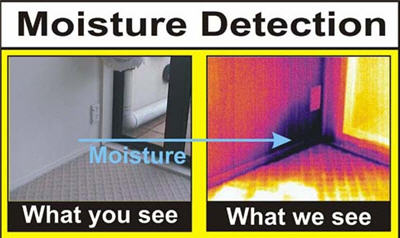 Whether you're looking to buy or sell a residential or commercial property, you need a trusted and reliable home inspector who can provide you with the information you need to make an informed decision.
We offer a range of services to meet your needs, including residential and commercial inspections, mold inspections, radon testing, and pest inspections. You can be confident that we will identify any issues that could impact the value, safety, or health of your property.
Don't let unseen problems turn into costly headaches down the road – contact us today to schedule your inspection and get the peace of mind you deserve.